Breeding Quality All-Around Performance, Pleasure, & Sport Horses that sell Nationwide & Abroad!
Quarter Horses - Thoroughbreds - Paints/Pintos & Sporthorses
Whinny Farms Stallions Broodmares Horses Training Horses For Sale Horses In Training Services
* * *

STALLION BOARDING $12-per day
STALLION TRAINING/BREEDING $25-per hr
STALLION HANDLING $150-per cycle
---
(Click on stallions' names to see individual webpages!)

QUARTER HORSE STALLIONS
---
2008 RED HOMOZYGOUS ROAN AQHA Stallion
Sire: Cee Harlans SmartBoy by Harlan Roan
(Smart Little Lena, Freckles Playboy, Harlan bred!)
Dam: Codys Driften Sand (Joe Cody, Driftwood bred)
If you're looking to produce All-Around Show, Sport, or Working Ranch horses, this is the sire!
He's got the breeding, disposition, and athletic ability to pass on!
Siring vividly colored ROAN foals that are easy to train!
5-Panel N/N ~ APHA Approved/Listed
Breeding Fee: $500-LRCFG (Live Roan-Colored Foal Guaranteed!)
---
PAINT HORSE STALLIONS
---
Lone Pine Twist "Scotch"
2012 Buckskin Tobiano APHA Stallion
Scotch's sire is a beautiful Dun Homozygous Tobiano stallion and his dam a producing Perlino Tobiano mare.
Scotch is a fancy young colt that we expect will sire some really nice colorful foals. He has a pretty laid-back attitude about most things...
He carries the fabulous breeding of De Tops Mr Lucky, Tonto Bars Hank, Triples Image, Shutout-AAA and Oreo Twist!
Scotch has a great personality, and a fabulous foundation pedigree!
Breeding Fee: $500-LCFG (Live Colored Foal Guarantee)
---
THOROUGHBRED STALLIONs
---
Dark Bay / Seal Brown Rabicano Thoroughbred Stallion
Own son of $2M+ sire Essence Of Dubai by Pulpit by AP Indy!
His dam is a Mr Prospector granddaughter - making him similar in pedigree to California Chrome!
Along with his good looks and speed, he has athletic ability & a winning personality...
Faith is EE/AA and sports moderate Rabicano roaning throughout his body.
If you're looking for speed or sporthorse ability, here's your man - Man Of Faith!
Breeding Fees:
$1200-Jockey Club Mares
$600-All Others
---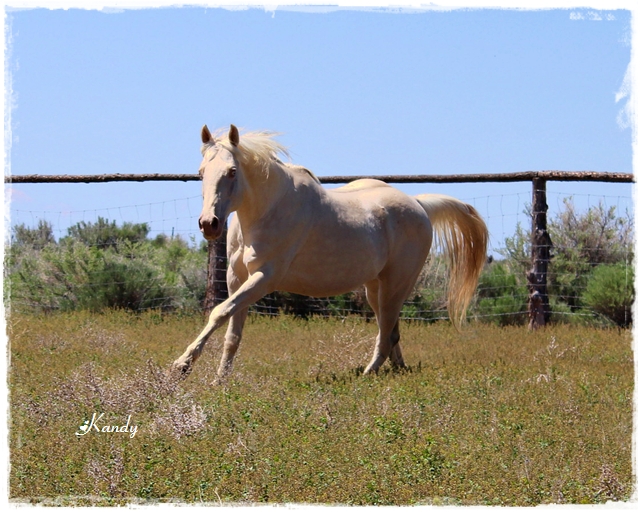 *RARE* CREMELLO THOROUGHBRED!
There are only a handful of Double-Dilute Thoroughbreds in the US - and he's available to ALL breeds of mares!
Special THANKS to a dear friend who made it possible for him to be here after the untimely loss of our White stallion.
Crusov is an incredibly athletic stallion that will take your breath away!
If you're looking to produce a colorful buckskin or palomino Sporthorse, Dressage or Jumping prospects, don't miss this sire!
He's also an excellent cross to AQHA and APHA mares, English, Western, or Barrels - he's a Performance Sire!
Breeding Fees:
$1200-Jockey Club Mares
$600-ALL Others

---
GYpsy Sporthorse STALLION
---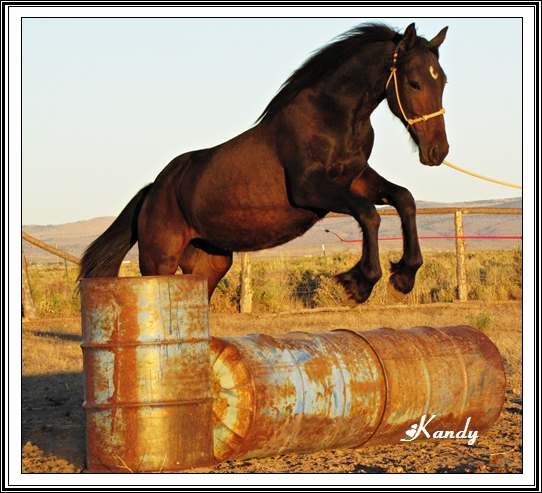 Black-Bay Gypsy Sporthorse Stallion
Sire: Latchos Lucky Tango (Gypsy Vanner) Dam: Sweet Moon (Thoroughbred)
We are now accepting limited mares for him for his 1st breeding season in 2019! All Breed are welcome!
Stands 15.1 at 4 years old - he is big boned & very solid built, with a lot of hair!
Breeding Fee: $500-LFG (Live Foal Guarantee)
---
CONSIDER THESE FINE STALLIONS FOR YOUR BREEDING PROGRAM THIS YEAR!
---
Our stud dogs:
Marshall...


WF REDS marshall dillon ("marshall")

Get your very own "Classic Dingo" here!
(Breed developed by Whinny Farms)
See our Classic Dingos here!

plEase email for puppy availablity

WF FESTUS

Sired by Marshall out of Trixie III

Get your very own "Classic Dingo" here!
(Breed developed by Whinny Farms)
See our Classic Dingos here!

plEase email for puppy availablity
---
* * * WHINNY FARMS' REFERENCE Stallions * * *
---
WHITE COLLAR CRIME
"Matoskah"

*RARE* Dominant White Thoroughbred Stallion - Maximum White Sabino (Chestnut/Overo)
**Double-Registered Jockey Club and APHA**

Sire: Allamistique (Race $ earner)
(full brother to Silver Mistique, white weanling TB filly sold at Auction in Kentucky for $85,000!
She was the 1st white TB sold at auction)

Dam: Social Impact ($78,608- out of 5 foals, 2 have been winners!)
By: Major Impact ($518,130-)

Performance bred AND his foals out of AQHA mares can be registered Appendix AQHA & APHA!

With incredible deep sadness, we announce the loss of Matoskah (2016).

He was the center of our JC/QH/APHA program!
We expect a few 2016 foals - any foal availabilities will be announced end of foaling season...

1999 Cremello AQHA Stallion


A grandson of Hy Tonto (16H, AAA-bred Pleasure winner by the $2,000,000-race sire Alamitos Bars!

His dam produced a 2001 AQHA World Show Qualifier in Open AND Amateur Aged Stallion Halter!

He has a tremendous disposition, correct conformation and sires performance & pretty!

Tonto is Homozygous for the Dilute Color Gene, which means he is GUARANTEED to sire 100% Buckskin and Palomino foals from ALL non-grey mares of ANY breed!

Click

HERE

to see more of Tonto & his foals!

***Sadly, Tonto passed away while out on a breeding lease***

BUDDY SHOE SHINE

2001 Black Homozygous Tovero 15.2H Stallion
(100% Color Sire and NEVER a Lethal White!)

Buddy is a fantastic mover, with a foundation pedigree of All-Around Performance!
Halter, Western Pleasure, English Pleasure, Cutting, Reining, Jumping - it's in there!
Not to mention the exceptional Colored Hunter/Jumpers sired by his grandsire! His pedigree consists of such greats as Billy Shoe Shine,Versary Bars, Buds Lad, and Whiskeys Slow Iron (who sired APHA's highest Reining pt earner in history!)
With a pedigree this rich in Performance - you can't go wrong breeding to Buddy!
He sires pretty heads, great dispositions, and fabulous color!
His foals have been easy to educate in hand and under saddle!


& EXPORTED TO BRAZIL!
---
THANKS FOR VISITING THE STUDS PAGE!
Whinny Farms:Stallion Station
Burns, Oregon 97720
(541) 493-2232

---
Copyright - Whinny Farms.
WARNING!
All content contained within this site is protected by copyright laws.