Whinny Farms:Stallion Station
Kandy Hall 38434 E Hwy 20 Burns, Oregon 97720 (541)493-2232
Home of the
*** Classic Dingo's ***
Spotted Leopard Puppies and other colors occassionally available!
The ideal "Classic Dingo" (a Sharp) - sold!
* * *

---
OUR CLASSIC DINGO'S
In Fancy Merle "Leopard" Coats and Heavy Roan Ticked Piebald Coats!
WF Trixie III
2012 Blue Patched/Speckled Female
Bred to WF Marshall Dillon (Red Leopard)
*** Produced 6 puppies on July 10th 2014 ***
2 black/tan females $150-each (Mocha, left and Lizzy right)

a valiant leap to say hi to Shasta resulted in Ruger taking a spill! :-)
2 Spotted Leopards (red leopard male & red leopard female)
Beware of the grinning dingo! "Festus II"

It get's better....
And Molly...
2 piebald males (one tri color red piebald, and one blue leopard piebald - both should speckle "tick" out like mom) BOTH SOLD
"Ruger" IS...Mr Personality!
Workin on his work ethics!
The grandsire to the above puppies is WF Bucks Red Baron (shown below).
***
---
The past....

Shown here is one of our older ladies, WF Patches Spotted Wonder, ("Spot") deceased of old age.



Spot is a mottled blue-leopard color...
Sired by: WF Bucks High Standard, ("Buck")
Out of: WF Bucks Blue Patch, ("Patches")
This is WF Bucks Blue Trick, ("Trixie")
(She is much sharper than this poloroid "puppy" photo shows!)

Sired By: WF Bucks High Standard
Out of: WF Patches Spotted Wonder
Here is a another "adult" photo of Trixie...


Update: Trixie sadly was lost in 2008...

After losing my original male and starting sire of my Classic Dingo's, WF Bucks High Standard, I saved one of his male pups for the future!
Here is a photo of the sire to all the 2002 - 2008 puppies!
A beautiful Red Leopard male...,
WF Buck's Red Baron, ("Red")
(photo at left as a puppy - right as a young male)


Sired By: WF Bucks High Standard
Out of: WF Sadie Grand Lady
As an older male, "Red" still has a ton of heart, and knows his job well - workin in the snow.


Red had his leg broke in spring of 2011, and still works like a youngster!
Our other Classic Dingo stud male is a mottled blue leopard w/tan markings...
WF Reds Fastest Flyer, ("Festus") sadly deceased in 2010.
WF Reds Marshall Dillon
"Marshall" 2009 Red (with Dark Red Spots) Leopard Male
Sire: Buck's Red Baron
Dam: WF Ginger N Spice

WF Lil Sis
"Sis" 2009 Red with Dark Red Spots Leopard Female
Sire: Buck's Red Baron
Dam: WF Ginger N Spice

WF Ginger N Spice
"Ginger" is a Heavy Mottled Red Leopard Female (deceased)

WF What The Buck
"Buck" is a 2010 pure Chocolate Male with a touch of white.
(in the 20+years since developing this breed, I have only had one other chocolate pup)


Sire: Buck's Red Baron
Dam: WF Ginger N Spice
"Foxy" (female - deceased)

"Got Ears?"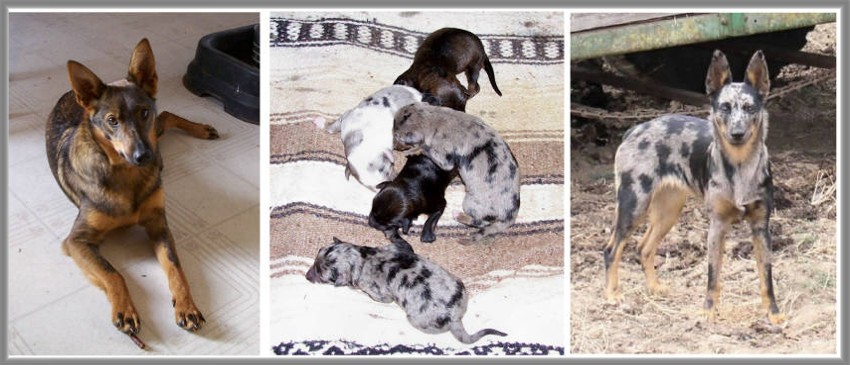 Get your very own Classic Dingo NOW!
Puppy prices vary from $100- to $500-dollars each!

The below puppies are all sold - but are left on this page to show you different color patterns




She has a little speck of blue in her eye, a real sweet pup, and cute as ever! Definately a choice female!




This male pup has a sweet temperment, and great markings!




She has a nice disposition, and loads of fun! Also with a speck of blue in her eye!




This is an incredible female with the traditional blue coat, but rare in color with no tan highlights! She's a beautiful Leopard!




Here is another rare colored pup! This heavily "mottled" leopard puppy has the blue-gray chest & belly with large mottled spotting pattern!

Please contact me for more information on these incredible, easy-keeping dogs!
CLICK HERE TO E-MAIL!

Get your very own Classic Dingo here!

Back to Whinny Farms

Thanks For Visiting!
Find us at "The Big Red Barn", mile marker 147, HWY 20 East of Burns Oregon.
Call (541) 493-2232
Email: whinnyfarms@centurylink.net
Whinny Farms:Stallion Station
38434 E. Hwy 20
Burns, Oregon 97720

Copyright 1989 - Whinny Farms

! WARNING !

All content contained within this site is protected by copyright laws.