Whinny Farms:Stallion Station
Horses For Sale...

Breeding Top Quality
All-Around Pleasure, Performance & Sporthorse Prospects that sell Nationwide!
Whinny Farms Stallions Broodmares Horses for Sale Horse Training Equine Reproduction Photos by Kandy

**Be sure to refresh your browser, as these horses' sales pages are updated with new photos frequently**
*** WE ALSO HAVE DINGO PUPPIES AVAILABLE!!! ***

* * *
PAINT HORSES:
"WF SMART ROSALENA"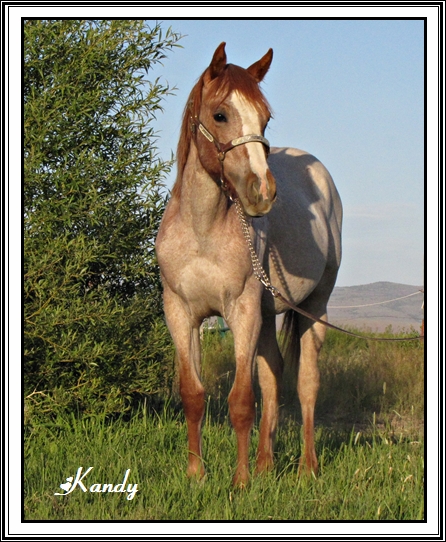 May 2013 Red ROAN Solid APHA filly.
WOW!!! Incredible Roan filly, out of the above mare and sired by Lenas Drifter (at stud).
***Here's your all around ranch and show horse prospect!***
Show her in Halter, then ride her, english/western, or put her to work on the ranch or in the cow pen! She will draw attention wherever she goes, and has the sweetest personality to boot! Her athletic ability is bred in with breeding to Harlan Roan, Cee Booger Red, Freckles Playboy, Smart Little Lena, Joe Cody, Mr Metallic, Pink Driftwood, Jackie Bee, Joe Reed, Tardy Too, War Leo Bonanza and Tuff's Chickadee!
See more photos of Rosalena HERE!
Priced at $1400- (Payments Considered)
---
"WF LENAS PEACEMAKER" aka "COLT"


May 15, 2014 dark RED ROAN COLT - full sibling to above filly!
"Colt" is a another super sweet, friendly Lenas Drifter foal! Colt has strong bone, bold personality, he's fearless - so far! :-)
RETAINED FOR FUTURE SADDLE HORSE
---
"WF CEE SMART MAX"


2014 RED ROAN APHA Solid Colt with full blaze....
This colt is an amazing cross of intelligence, pretty & performance! He is working cowhorse bred top and bottom! This colt is that beautiful ROAN color! With breeding of Cee Harlans Smartboy, Harlan Roan, Driftwood, Poncho King, Cupid Bar (Lifetime Leading Sire!) Smart Little Lena, Croton Cody and Freckles Playboy you can't go wrong! If you're looking for level headed performance ability - it's bred into this one!
See more of Max HERE!
Reserve this colt now with a DEPOSIT, and monthly payments can be made until he's paid for!
$1250-FINANCING AVAILABLE!
---
June 25th, 2011 Sorrel/Tobiano Colt (with roan hairs) 14H
June 6th, 2014 Dark Chestnut Flaxen Thoroughbred Stud Colt
"Crimson" is a well built colt with heavy bone, solid legs and good feet.
---
FRIESIAN SPORT HORSES:
---
"WF LIBERTY"
July 4th 2014 GREY Friesian Sporthorse Filly!
"Libby" is sired by our Friesian stallion,
Yorick
, out of a Percheron/Quarter cross Grey mare. Libby is intended to be my replacement for her dam Abby, as Abby is getting up there in age and Libby is her first foal! However, we will entertain offers.
Libby is showing hair and feather already! Her dam wears a size 2 shoe!
Excellent Offers Entertained!
Libby is huggably sweet! Seeks your attention...
---
"WF MERCEDES"
2011
BLACK
Friesian Sporthorse Filly sired by
YORICK
out of the seal bay APHA/Solid mare, Ms Snickelfritz Moon.
Mercedes is a very nice filly, always wants to please (and play in the water tank!)
Not exactly wanting to sell her, but she is now offered to a great home!
to WERT RANCH! Congratulations Nancy!
---
"ANDELASIA"
2011 BLACK FRIESIAN SPORTHORSE Filly "Lizzy".
Lizzy is sired by
YORICK
out of a Clyde/Quarter cross mare. Lizzy is VERY animated (even at the walk) and will make a super show, personal pleasure, trail, parade, or dressage horse!
Lizzy has a pleasing personality, is very smart and showy, and is sure to make a super partner.
Owner is reluctant to sell, so make your offers count!
$2000- (Financing Available!)
---
"UN BORN FOAL"
2015 BLACK & WHITE FRIESIAN SPORTHORSE Foal (likely a filly) due late April 2015.
"Oreo is a super nice Homozygous Tobiano Paint mare in foal to our Friesian stallion,
Yorick
, for 2015!
The resulting foal with be a Black & White Friesian Sporthorse!
This up-coming foal is available for sale!
---
SPORT HORSES:
"UN-BORN FOAL"
2015 Oldenburg/TB Foal
Sired by the Rare WHITE (Chestnut/Overo) Thoroughbred/Paint stallion, Matoskah, out of the Oldenburg Registered mare, Crickett.
This foal will be superb athlete and have a great personality. Could range in color from solid, to splattered white to all white coloring, and either bay or chestnut base coat.
Serious Inquiries only! Regardless of color, this foal will have a superb future as an Eventer, or Dressage Prospect!
$9500-payment plans now unti weaned fall of 2015!
---
2015 Oldenburg/Thoroughbred UN-BORN Foal
Sired by the Rare WHITE (Chestnut/Overo) Thoroughbred/Paint stallion, Matoskah, out of the SOLID BLACK Oldenburg Mare, Forbid Me Not (Ferbie) shown above. Ferbie was injured as a foal, so never got a chance to be put under saddle. She is sired by the fabulous BLACK dressage stallion, FREESTYLE! Her dam was a Bay TB mare.
This foal is sure to be a fabulous prospect, and could range in color from Black, Bay or Chestnut, and have anywhere from no white, to speckled or splashy white, or all white coloring!
$3500-Payment Plans now until weaned fall of 2015!
---
QUARTER HORSES:
---
"WF JUSTICE"
May 22, 2014 Double-Registered AQHA Appendix & APHA Solid Chocolate Chestnut/Flaxen Colt!
Dam is Buckskin AQHA, Loose Olena Sox and the sire is our Jockey Club/APHA Chestnut/Overo,
Maximum White Thoroughbred, Matoskah!
Justice has 2 TALL socks on the left, blazed face, dis-connected spot on left rear leg, speck of blue in right eye. Justice was born on stilts, and is really looking like a top sporthorse prospect! If you're looking for a serious show prospect that can show in dual registries - here he is!
Sire and dam both have excellent dispositions and performance ability.
$2800- (VERY tempted to keep this one as well!)
***08/15 Injured himself in the pasture, he's sound but it will likely leave a scar and/or thickened area)***
---
If you're looking for a show, pleasure, or ranch/rope horse prospect - here he is!
2010 AQHA Stallion 13.3 1/2 H
(Registered as Blue Roan - will need color change on papers)
---
Name translates: Whinny Farms' bred... "Prince, Son Of Falzan"
2003 Grey Purebred Arabian Mare
Walia is a Whinny Farms-bred mare. An orphan daughter of FALZAN (Straight Egyptian) x Awwali Muhra (grandaughter of Negatraz & Colonel Mac by The Real McCoy out of a Gai-Adventure mare!) Walia is very performance bred with every sire line tracing to US National Champions or Racing Greats!
Breeding Foundation Performance lines? Looking for Endurance? This is the mare for you - she rides too!
---
Whinny Farms
38434 Hwy 20 E
Burns, Oregon 97720
541-493-2232
---