Whinny Farms:Stallion Station
Kandy Hall 38434 E Hwy 20 Burns, Oregon 97720 (541)493-2232
Back to WhinnyFarms Stallions Broodmares Horses for Sale
presenting...
Hy TontoBar Norfleet
1999 Cremello Quarter Horse Stallion
(AQHA Registered #4325852)



Tonto is Homozygous for dilute colors!
Sires 100% Buckskins & Palominos, (possibly Smokey-Black) out of every non-grey mare!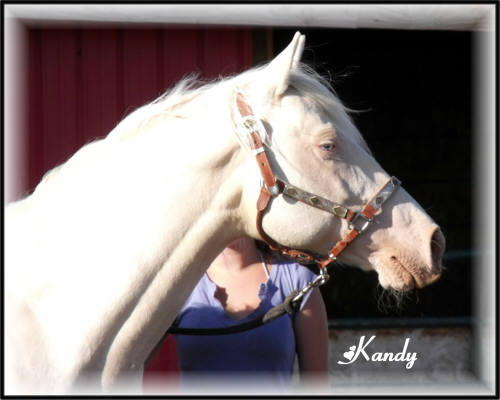 An excellent opportunity to add performance blood & color into your foals!!!

Tonto's "OLD-timeR" Pedigree:
Tonto has the great Norfleet (1924) on the dams side of his pedigree!
Norfleet-bred horses have topped the APHA industry in World & National Champions!
If you're looking to breed for
PLEASURE & PERFORMANCE
with the added bonus of 100% dilute color - then Tonto is the stallion for your mare!
Feb 2003 "winter" photo...


Dressage Enthusiast?
Tonto has a big motor & powerful drive from the hindquarter!
Cutting Enthusiast?
Tonto is athletic and gets his hocks under him!
Tonto has a superb disposition, and is siring awesome "All-Around" prospects the whole family can enjoy!
Summer 2012...
---
A few of Tonto's foals...

"WF Cowboy Norfleet"
2010 Buckskin Colt
(photo coming)
Bred by Jan Larson
Available For Sale!

2010 Buckskin Quarter Horse Filly

Tonto x Aria (Bay mare) Bred by Jan Larson

"WF Cowboy Norfleet" (Cowboy)
2004 APHA/Solid Buckskin Gelding
Shown here @ his 26th ride under saddle
Placed 3rd & 4th in Green Horse with Katie-11yrs old
Whinny Farms Training


"WF Tashmira Norfleet" (Flicka)
2006 AQHA Palomino filly
Bred by Whinny Farms
in Oregon!


"WF Noble Norfleet" (Noble)
2004 Palomino AQHA Stallion
out of 2x's Sir Quincy Dan mare!
bred by Whinny Farms

to Arizona! Thanks Joe!


WF Exclusive Norfleet (Clu)
2006 Appendix AQHA Palomino Gelding bred by Whinny Farms

to California! Thanks Elise!


"WF La Questa" (Lucy)
2006 Palomino 1/2 Arabian/Quarab filly
bred by Whinny Farms.
to California! Thanks Shasta!

2009 Palomino filly
(full sister to WF Noble Norfleet)

NO PHOTO YET

to California in utero!
Congratulations Rebecca!

"WF Exclusive Norfleet" @ 2yrs
---
Feb 2003 "winter" photo...


Hy-Ho Tonto!
Breeding Fee:$500-LDCFG (to ALL Base-Colored mares)
(Sorrel-Chestnut-Black-Bay-Brown)
Dilute-Colored Mares @ Private Treaty
Click HERE to email regarding Tonto!
---
Thanks For Visiting!
Find us at "The Big Red Barn", mile marker 147, HWY 20 East of Burns Oregon.
Email: whinnyfarms@centurylink.net
Whinny Farms:Stallion Station
38434 E. Hwy 20
Burns, Oregon 97720
(541) 493-2232

Copyright - Whinny Farms.
WARNING !
All content contained within this site is protected by copyright laws.