Whinny Farms:Stallion Station
Kandy Hall 38434 E Hwy 20 Burns, Oregon 97720 (541)493-2232
Back to WhinnyFarms Stallions Broodmares Horses for Sale
Norfleet Hobby Gold

AQHA 1990 Dark Golden Palomino Stallion
ALL-AROUND Sire of Pretty & Performance!
REFERENCE SIRE: SOLD at 18 years of age!

CLICK HERE TO EMAIL!


pedigree:
Sire: Dear's Grey Pants (1973 palomino) By AQHA Champion Sire, Gay Britches
(Handy Britches-Shoemaker-Norfleet-McCue-Waggoner)

Dam: Moolah Star Hobby (grey)
(Moolah Bux-Oklahoma Star-Hobby Horse-Three Bars)

WOW - Awesome Old-Time Pedigree!



Norfleet is siring the All-Around Horse...
from ranch work to the show arena, trails, and gaming - he's sired it!

2007 Photos w/Katie

BELOW PHOTOS AT 18 YEARS OF AGE!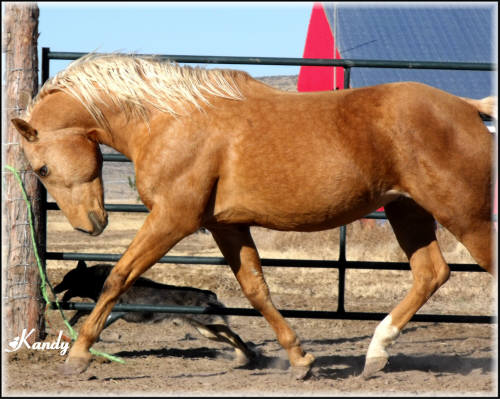 Foals sired by Norfleet!

WF Go Nicki Norfleet (Photo By Kandy)
2002 Appendix AQHA Buckskin mare bred by Whinny Farms - SOLD!

1994 Buckskin AQHA gelding
Bred by Dorothy Blackburn - SOLD!



1998 APHA BS Chestnut Filly
Bred by Whinny Farms - SOLD!


2000 AQHA Palomino Filly bred
by Carol Noel - SOLD!


1998 Buckskin Appendix Mare
Bred by Deb Phillips, a lunge-line futurity $$-winner as a yearling, and as a 2yr old placed 3rd in halter overall in a class of 28! She (being appendix) even placed over the halter-bred horses by one judge!
SOLD!



Sorrel/Flaxen AQHA Colt
bred by Deb Phillips
SOLD!


2001 Buckskin/Overo APHA Filly
WF Lady Norfleet
Bred by Whinny Farms, SOLD! and went to work on a cattle ranch - updated photos below!


Palomino APHA BS Gelding bred by Jane Shelley - SOLD!


Sorrel/Tobiano filly bred by
Deb Phillips, full sister to
Palomino colt @ left...
SOLD!


WF TrinityDawnNorfleet bred by
Whinny Farms, SOLD!


WF Leola Norfleet - AQHA Liver Chestnut/Flaxen filly bred by Whinny Farms - SOLD!


Norfleet Hickory Wagon - AQHA Palomino Mare bred by Dorothy Blackburn
SOLD!


2004 APHA/BS Bay Gelding, WF Chico Bar Norfleet, bred by Whinny Farms
SOLD! and working in feedlot!


WF Cupid Bar Norfleet APHA Palomino/Overo Stallion
Bred and owned by Whinny Farms - full brother to "Trinity" SOLD!


2006 Sorrel AQHA Colt
WF Macayo Norfleet
Bred by Whinny Farms
SOLD to Nevada!


WF Foxy Oak Norfleet
2007 Palomino AQHA Filly bred by Whinny Farms (full sister to Macayo-left)
SOLD to Montana!
WF Lady Norfleet - at work gathering...

More older pics of Norfleet...
1992 Photo by Gail Bates


On his toes over his quality foals!
June 2003 Photo

1992 Photo by Gail Bates

REFERENCE SIRES FOR NORFLEET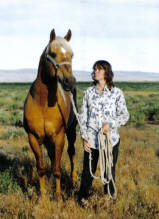 Thanks For Visiting!
Find us at "The Big Red Barn", mile marker 147, HWY 20 East of Burns Oregon.
Call (541) 493-2232
Email: whinnyfarms@centurylink.net
Whinny Farms:Stallion Station
38434 E. Hwy 20
Burns, Oregon 97720

Copyright 2007 - Whinny Farms.

! WARNING !

All content contained within this site is protected by copyright laws.