QUARTER HORSE BROODMARES...

---
DOCS ROYAL DUAL "Royal"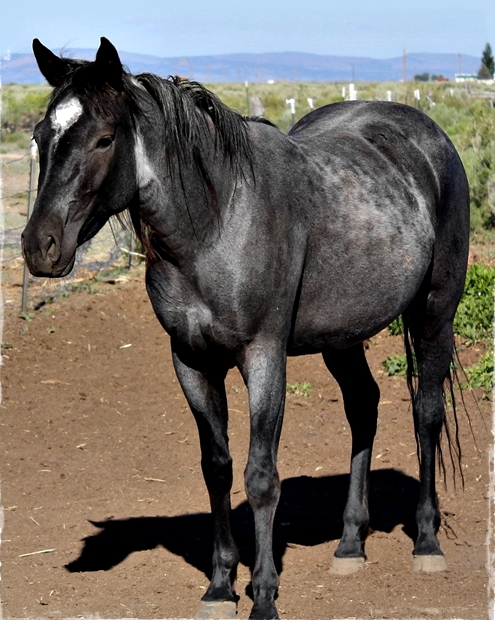 2014 Blue Roan AQHA Mare 5-Panel N/N

Royal is an own daughter of Dualaroanie by DUALS BLUE BOON (Dual Pep x Royal Blue Boon - Equistate #1 Producing Broodmare NCHA with a PE $2,614,201-).
Her dam is by Cole Olenas Pep by Peppy San Badger x Miss Coke Olena by DOC OLENA!
See more of Royal HERE!
Produce:
2019 Red Roan AQHA filly sired by GWS Lenas Drifter - retained - see her HERE!
2021 APHA Buckskin Roan/Tobiano filly sired by Lone Pine Twist - see her HERE!
In foal to APHA Buckskin/Tobiano Hz Stallion Lone Pine Twist for 2022 - foal will be for sale INQUIRIES INVITED!
---
WF LENAS DUAL BOON "Lena"


AQHA RED ROAN Filly - Future Broodmare 5-Panel N/N
Sired by GWS Lenas Drifter out of tha Blue Roan mare, Docs Royal Dual...this pretty filly has a solid performance pedigree, and a winning disposition.
---
THOROUGHBRED BROODMARES...
---
EASY GOLD
"Easy"



2005 Chestnut TB mare 15.3 1/2H

Sired by Kentucky-bred Gold Meridian $43,569- an own son of the great SEATTLE SLEW $1,208,726- (1977 Horse Of The Year - Hall Of Fame & Triple Crown Winner!)
Her sire, Gold Meridian, is a 1/2 brother to the "Sire Of Sires", A.P. Indy - 1992 Eclipse Horse Of The Year and Champion 3Yr Old Colt, Winner of the G1 Santa Anita Derby, Belmont S, and Breeder's Cup Classic!
Her dam is Maple Valley (DP-32) $12,256- is sired by Fast Forward $479,484- a son of Pleasant Colony $965,383- (Kentucky Derby & Preakness Winner, but got 3rd at Belmont…just missing the Triple Crown title!) A US Champion 3yo Colt & Champion Sire with more than 12 G1 winners and 2 American Champions!

Easy Gold's 1/2 sister Supah Gem by Gold Meridian earned $445,147- at 2yrs was 4th Breeders' Cup Juvenile Fillies (G1)

Easy has a great performance pedigree, and is proving herself as a broodmare!
Open for 2022.

Click HERE to see her page!
---
SLEEP ON IT "Kat"


2012 Black/Brown Thoroughbred Mare
Kat is an own daughter of Twig N Berries $84,520- by PINE BLUFF $2,255,884- (Danzig x Rowdy Angel by HALO)!
Twig N Berries is out of an own daughter of Triple Crown Winner & Hall Of Fame - SEATTLE SLEW!
Her dam, Dithyramb is by Chullo (ARG) $556,139- out of Sweet But Bold $186,192-
Kat produced her first foal in 2017 - a lovely BUCKSKIN Thoroughbred filly sired by Crusov Fox that can be seen HERE!
Bred to Crusov Fox for 2018 - did not produce.
Bred to Man Of Faith for 2019 - produced a beautiful bay colt that can be seen HERE!
Left open for 2020.
Bred to AQHA stallion GWS Lenas Drifter for 2021 - Bay Roan filly is retained - see her HERE!
Bred to AQHA stallion GWS Lenas Drifter for 2022 - INQUIRIES INVITED!
See more of Kat HERE!
---
WF PILLOW TALK "Mocha"


Rare Brown-Based Buckskin Thoroughbred Mare
Sired by Crusov Fox out of Sleep On It. This good looking young mare has speed AND athleticism.

---
PAINT HORSE BROODMARES...
---
PONCHOS DANDY STAR "Athena"


2007 Sorrel/Overo Mare 15.1H

Athena has Kingfisher (Foundation APHA#13,988) ON her papers as well as the working ranch sire, Dear's Grey Pants, and CUPIDS KING (holds 4-SUPERHORSE AWARDS!)
Lots of old performance breeding in this young mare!

Bred to Cremello Thoroughbred stallion, Crusov Fox for 2022 - and foaled a GORGEOUS PALOMINO colt with chrome!
See more of Athena HERE!
---
GUNNA TWIST AND SHOUT "Lilly"


Bay/Minimal Overo APHA Mare (papered Solid)
Lilly has lots of foundation performance breeding in this young mare! Own daughter of Gunna Roll with Docs Lynx, Peppy San Badger & more!
Bred to Lone Pine Twist for 2019 - produced a NICE Bay/Tobiano colt that can be seen HERE!
Bred to Cremello Thoroughbred stallion, Crusov Fox for an exceptional performance & pleasure prospect - Brown-Based Buckskin Solid filly is retained.
Open for 2022 breeding.
---
MSF ROSES R THE BEST "Rose"


2018 Bay/Tobiano APHA Mare

Rose is absolutely the sweetest mare! An own daughter of The Best Machine by Superior Western Pleasure & World Champion Sire, A Good Machine, by the great Zippos Mr Goodbar! Her sires' dam is by the All-Time Leading Performance & Halter sire, Zippos Sensation! Her dam is an own daughter of World and Reserve World Champion sire, Gentlemen Send Roses out of a dtr of Addicting out of a dtr of Story Man. Her pedigree is packed with Champions!
We expect great foals from Rose...stay tuned!
---
JZA ROMANCE N PEARLS "Livee"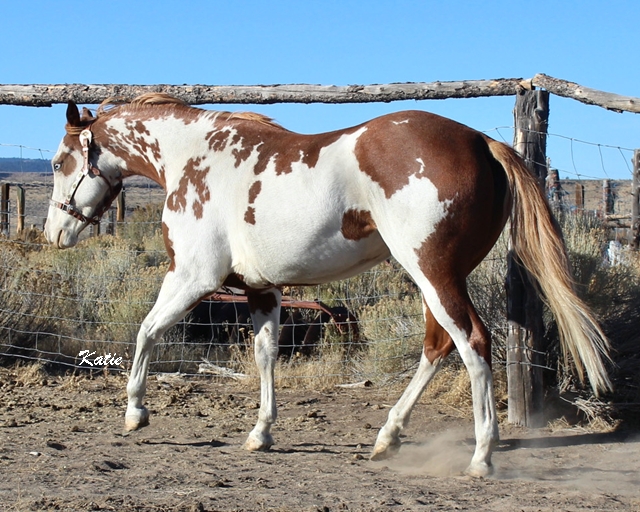 Sorrel/Overo Flaxen Mare 5-Panel N/N
Own daughter of APHA World Champion & Superior Western Plesure, Trail & Western Riding, Just Zippin Around!

---
SPORT MARES...
---
"CRICKET"

Percheron/Thoroughbred Cross Bay Mare 16.2H

Cricket is now retired to being a broodmare, but she was an excellent riding horse, and superb jumper in her day!
Expecting a foal in 2022.

Please go to her page to see her foals!
---
* * * WHINNY FARMS' REFERENCE Mares * * *
~ Some mares may leave our pastures, but they never leave our hearts ~
LOOSE OLENA SOX "Cookie"

2003 AQHA Buttermilk Buckskin Mare

Cookie has some fabulous old-time bloodlines such as Doc O'Lena, Duske Peak, Paul A, Bras D'Or, including 3 crosses to Driftwood!
Cookie is well made, good looking, good sized, and has a sweet disposition!
Cookie has produced several fabulous foals for us! Deceased

Please click HERE to see Cookie's page!

SCARLET AND LACE

1994 Sorrel/Overo mare (Flaxen w/roaning) *deceased*
Lacy is an awesome mare, 15.3 Hands, and athletic! She is the last foal of Cupids Pentangle (by APHA World Champion Heading & Heeling, Res. National Champion (and more!), Cupids King, by the great Cupid Bar, (Lifetime Leading APHA Sire of Paint Performance Horses), out of a Triples Image daughter!) Her dam is an Appendix AQHA Ettabo (AAA Race), Hempaces (JC), Deep Sun (AAA) & Depth Charge cross!

Lacy was a tremendous producer of QUALITY foals for us!

Sadly, we didn't keep any of her foals, and this line is farther away now...

MS SNICKLEFRITZ MOON "Fritzie"

2004 Dark Bay/Solid APHA Mare 15 1/2H *deceased*


Own daughter of Tardy Too Keagan (Tardy Too x Jackie Bee breeding)!
Fritzie was a top producing mare that was an absolute pleasure to be around!

Fritzie will always be missed in our hearts and in our program!

Click HERE to see more of Fritzie!

Natalie GotTheRose

2007 Chestnut Double-Registered Thoroughbred & Paint mare. 16.1H *deceased*
Sired by Elusive Quest (Brown/Overo) by Sonnys Solo Halo by HALO!

Sadly, we lost Rosie to colic too soon in life...she is greatly missed!
---
Located at "The Big Red Barn" in Burns Oregon.
Whinny Farms:Stallion Station
Burns, Oregon 97720
Copyright - Whinny Farms
! WARNING !
All content contained within this site is protected by copyright laws.