Whinny Farms'
References
* * *
Home About Us Services Training Mustangs Gallery Horses In Training
Welcome!!!
Thanks for reviewing our webpages!
See what our friends have to say about us!
Home of the Foundation Education Horse Training Program!
"We put a Foundation Education on every horse we train!"
Please EMAIL if you have any questions about horses, training, breeding, lineage, etc...
---
Our Veterinarian: Dr Katie @ Sage Country Veterinary Service (541) 589-1836
---
This is a letter of commendation for Katie Hall...
Katie knew my young granddaughter was looking for a horse and she took it upon her self to find a good horse and train her over a 3 month period of time.
Katie worked tirelessly to get the horse "Annie" trained so a 9yr old girl could ride her safely. Katie also trained my granddaughter in the maintenance of a horse and safety.
Katie did this without ever being asked. She just wanted to make a young girls dream come true, Katie is a remarkable and responsible young lady and I know she will accomplish great things in life. We are so appreciative of her commitment to making this world a better place and sharing her knowledge.
Thank You
Kathleen J, Burns Oregon
---
Hello Kandy, Just wanted to say that our visit to Rui was real nice. You and Katie are excellent trainers and showed us how much Rui has learned.
I just can't wait till I see her next.
Thanks Linda
Kiger Mustang Mare - See her training page HERE!
---
Kandy, With trepidation, I am going to release my spot for Blaze. With gas prices this ridiculous I am going to try to find a trainer closer to my area.
I realize I will not find a training program as great as yours, but I have to try something. I truly hope this does not ruin my standing with you.
Your program is the best and I will continue to recommend it to others.
Kathy

See Blaze's training pages HERE (halter breaking) and HERE (started under saddle)
Blaze was due to come back for a "Spring tune-up", but fuel prices were really awful!

Blaze goes to a local schooling show...

---
Thanks so much, Kandy, for the great advice. I just posted Violet on several West Coast Pony Club Facebook pages, that's a really promising idea. Also will double post her on the Craigslist sites in No. CA and WA state, and equinenow. We have her listed on Flying Changes, and I'll check on the West Coast Horseman. Really appreciate you taking the time to provide marketing tips, much obliged, Merry Ann
---
I could not be happier with the filly I bought from Kandy and Katie at Whinny Farms!
Rosalena (now known as Cadence) is a wonderful BS Paint filly. She is put together very nicely, smart and willing, sweet, and a gorgeous red roan to boot. It's easy to see that she already had lots of handling by the time I got her. She learns incredibly fast and can walk, trot, canter on a line, stop and disengage her hip with just body language. I've already put a bareback pad on her (not cinched up), started her on clipping, bathed, and is great for feet. She has a quiet, smart mind, but has the go when you ask for it. I am always getting compliments on her looks, build, and temperament.
Kandy and Katie have been great to work with! They are very nice and know what they are doing.
Through careful breeding, they have given me a nicely put together filly that could go any direction. I am excited to have her as my reining prospect!
Kendra~
See more of this gorgeous filly HERE!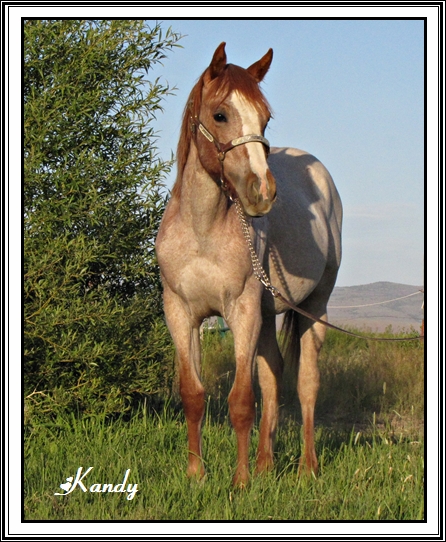 ---
---
To see Training horse's and their pictures
* Please Visit *
The Training Gallery Pages
---

Located at "The Big Red Barn", in Burns Oregon.
Whinny Farms:Stallion Station
EMAIL
Burns, Oregon 97720

Copyright - Whinny Farms.
! WARNING !
All content contained within this site is protected by copyright laws.