Whinny Farms:Stallion Station
Don & Kandy Hall 38434 E Hwy 20 Burns, Oregon 97720 (541)493-2232
Back to WhinnyFarms Stallions Broodmares Horses for Sale
Hesa Diamond Chex
1998 Grey/Tob-Overo APHA Stallion 15.2H



2007
Jasper - June 2008

Jasper - winter pics (2007)

Jasper - loves to play with his tire!


Jasper - as a younster...


PEDIGREE




2008 Breeding Fee:$500-LFG!
Includes 2 weeks FREE mare care!


"Jasper" is a Foundation-bred Paint stallion with Hy Diamond Boy (APHA Registration #2) on his papers! His sire won money in Hackamore working cattle!
His pedigree is stacked in your favor for breeding for the All-Around performance sire that can put your foals winning in Halter before they're old enough to win in performance!

Speed, Cow, Halter, Hunter.............Jasper's got athletic ability, and a superb disposition to boot!

Take this opportunity to breed to a Bueno Chex stallion for a very low introductory fee!
Jasper has sired a high percentage of colored Paints (only 1 solid so far - and she was grey!)
Foals come in Grey, Gold, and Liver colors!



Click HERE to email regarding "Jasper"!

REFERENCE PHOTOS:
Jasper's sire: Diamond Chex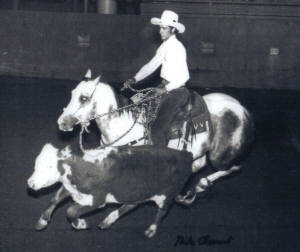 Diamond Chex's Record:
1979 - Snaffle Bit Futurity Champion

1980 Hackamore Champion

Points in Halter, Cutting, HUS, English & Western Pleasure

Reserve Grand Champion

APHA Champion sire

ROM sire
Thanks For Visiting!
Find us at "The Big Red Barn", mile marker 147, HWY 20 East of Burns Oregon.
Call (541) 493-2232
Email: kdhalls@centurytel.net
Whinny Farms:Stallion Station
38434 E. Hwy 20
Burns, Oregon 97720

Copyright 2007 Whinny Farms. WARNING !

All content contained within this site is protected by copyright laws.