Whinny Farms:Stallion Station
Kandy & Katie Hall ~ Burns, Oregon 97720
Breeding Top Quality All-Around Pleasure & Performance Prospects that sell Nationwide!
offering...
WF Driftn Jag Olena
June 5th, 2016 PALOMINO ROAN AQHA Filly
* * * * *
Pedigree:
WF DRIFTN JAG OLENA

This is a fancy looking filly with an old time pedigree of speed on cow!
---
REFERENCE PHOTOS
Sire: GWS Lenas Drifter (Red Homozygous Roan AQHA Stallion)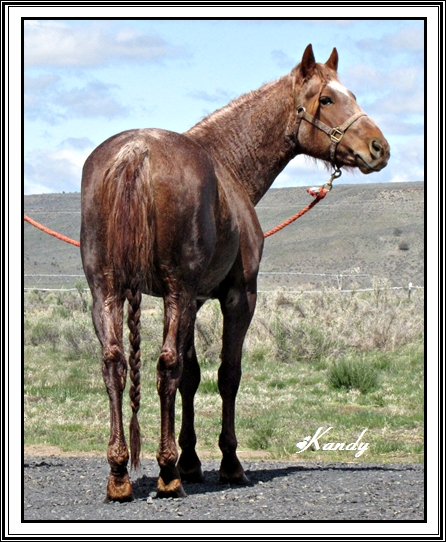 Dam: Loose Olena Sox "Cookie"
By: Olympic Gold Olena (Palomino) By: Switch Olena
---
More photos as she grows...
This girl's got legs!
Spring 2018...
The plan was to sneak out and get a photo of Jag before she got too close and crowded me...she sauntered right up, so I whipped out this grocery bag thinking she'd move off and look at me, she didn't, so I tossed it to her...and she reached down, sniffed it and picked it up! As if to say..you dropped something!
---
Thanks for Visiting!