Welcome to the facility!
* * *
Horse Breeding Facility - Horse Training Facility in Burns, Oregon
* * *
Photo Below:
THE FRONT PASTURE SPRING OF 2005 - BORDERS ALONG HWY 20 FOR EASY ACCESS
ACREAGE:
80+/- acres in natural pasture and sage brush
Lush pasture follows a good winter snowpack on the surrounding mountains!
HOME:
Comfortable 4-Bedroom/2-Full Baths on foundation
Laundry Area
Mud Room
Electric Heat & "Toyostove" Oil Heat
NEW TRAINING & BREEDING BARN BULT IN 2004:
(known locally as "The Big Red Barn")
4-Big bay-doors to open for air-flow on hot summer days
60 x 96 indoor riding arena
(great for colt starting-lessons-clinics/etc)
12-ft alley full length seperating arena from stalls
4-conventional stalls w/sliding doors - inner walls remove easily to be 2-12 x 24 foaling stalls
1-center indoor panel stall opens to outdoor panel corrals for easy traffic or wintering weanlings
1-12 x 12 tack room (could easily convert to another stall)
24 x 24 indoor breeding area could easily convert to 2 more stalls
The breeding area - for Semen Collection and Artificial Insemination.
Man door plumbed in at dummy's head...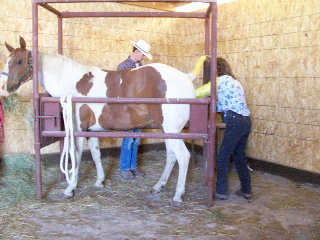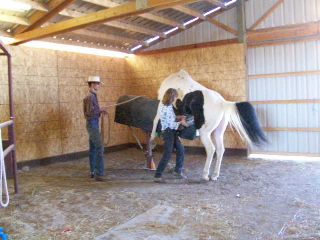 5 - 32x46 Stallion Paddocks
1 - 24x28 Stallion Pen
4 - 20x24 Mare Pens
1 - Huge Outdoor Arena (Natural Footing)
1 - Weaning Pen
1 - Barbed Wire Cow-Pen
Pastures cross-fenced into 3 pastures
3 other misc post/wire panel holding pens
Stallion playing in the outdoor arena...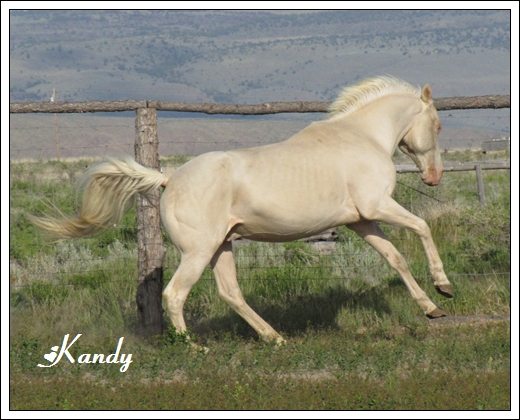 Another shot of the outdoor arena being enjoyed by a gelding!
This photo shows the large arena in the background of the simple trail course...
Back pasture with spring runoff irrigation...
Watch birds in your back pasture!
Photos around the property...
facing the barn (left side bay door closed)
Showing 2 of the front row stud pens...
Hwy 20 signage
Thank You For Your Interest!
Find us at "The Big Red Barn", mile marker 147, HWY 20 East of Burns Oregon.Call (541) 493-2232
Email:whinnyfarms@centurylink.net
Whinny Farms:Stallion Station
38434 E. Hwy 20
Burns, Oregon 97720